SOUTHDOWNS
"TRAILBLAZER" FORSEE R20-223
Sired by Trendsetter, he has impeccable breed type.  Smooth bodied, handles extremely well with a long loin, great tail set and hip structure.  We are super excited to see the lambs out of this guy in January and February of 2022.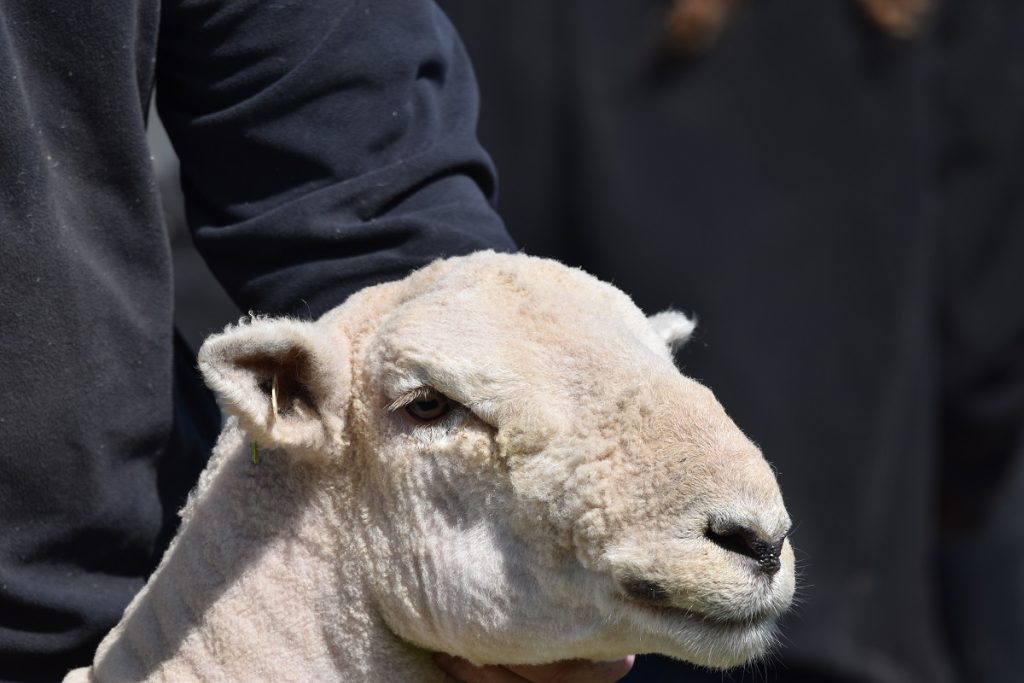 FORSEE R16-211 "RR"  Used for 2018 -2021 lamb crops
THIS RAM IS SIRED BY FORSEE'S RAMPAGE.  HE IS VERY IMPRESSIVE IN HIS RUMP STRUCTURE AND LENGTH OF BODY.  WHAT REALLY DREW US TO HIM WAS HIS GREAT COLOURING AND BREED TYPE TO GO ALONG WITH THAT EXTRA BIT OF MUSCLE IN HIS LOWER REAR LEG.  HIS LAMBS ARE CONSISTENT AND SCANNED LARGE LOINS.  HE HAS SIRED NUMEROUS CHAMPIONS FOR US, WE ARE REALLY IMPRESSED WITH HIS DAUGHTERS UDDER QUALITY. NICE TIGHT UDDERS WITH GOOD ATTACHMENTS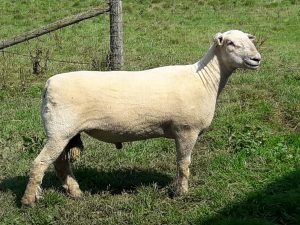 FERNHILL 04-16 AU "QR" used 2020 lamb crop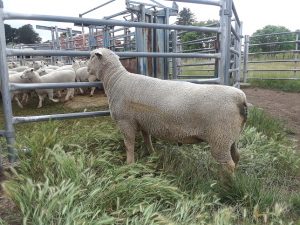 VERY LONG BODIED, DEEP LOINED RAM SELECTED FROM FERNHILL SOUTHDOWNS IN AUSTRALIA.  WE KEPT TWO RAM LAMBS FROM THE AI PROGRAM TO USE ON FORSEE 211 DAUGHTERS.  TODD'S MISSION 6H AND TODD'S MAMBO 9H,  BOTH BRING A BIT DIFFERENT PEDIGREE ON THE DAM SIDE.
SUFFOLKS
"OZARK" KIMM 200046 RR
We feel very fortunate to have purchased OZARK out of Bob Kimm's annual production sale where he was high selling ram $3500 USD.  This ram is a meat machine.  Tremendous amount of muscle down his rack, over his loin and down into his lower leg.  Twin born in Oct 2020 with a 12lb birth weight and 65day weight of 91lbs.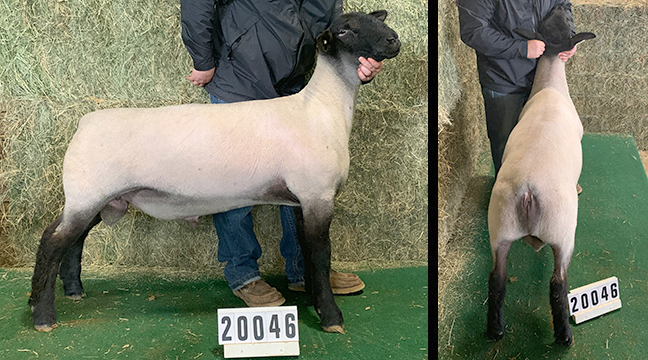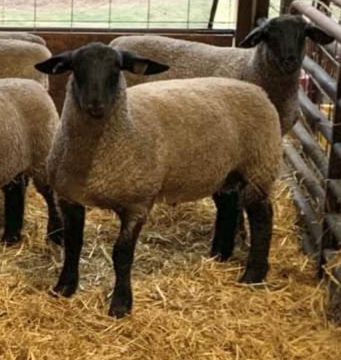 "LONG HAUL" KIMM 20054 RR
We purchased this ram also in the Kimm production sale in May.  Long Haul has tremdous length of loin and overall smoothness.  He still has well above average for muscle and scanned a very good loin.  Twin born in October 2020 with moderate birth weight of 12 lbs, 65 day weaning weight of 99lbs!  What really attracted me to this ram is his mother (2014 model) who is sired by Meadows 5211.  I used a son of 5211 a number of years ago and his daughters have tremendous milky udders and great mothering instinct.  I have a feeling he is going to produce some awesome daughters.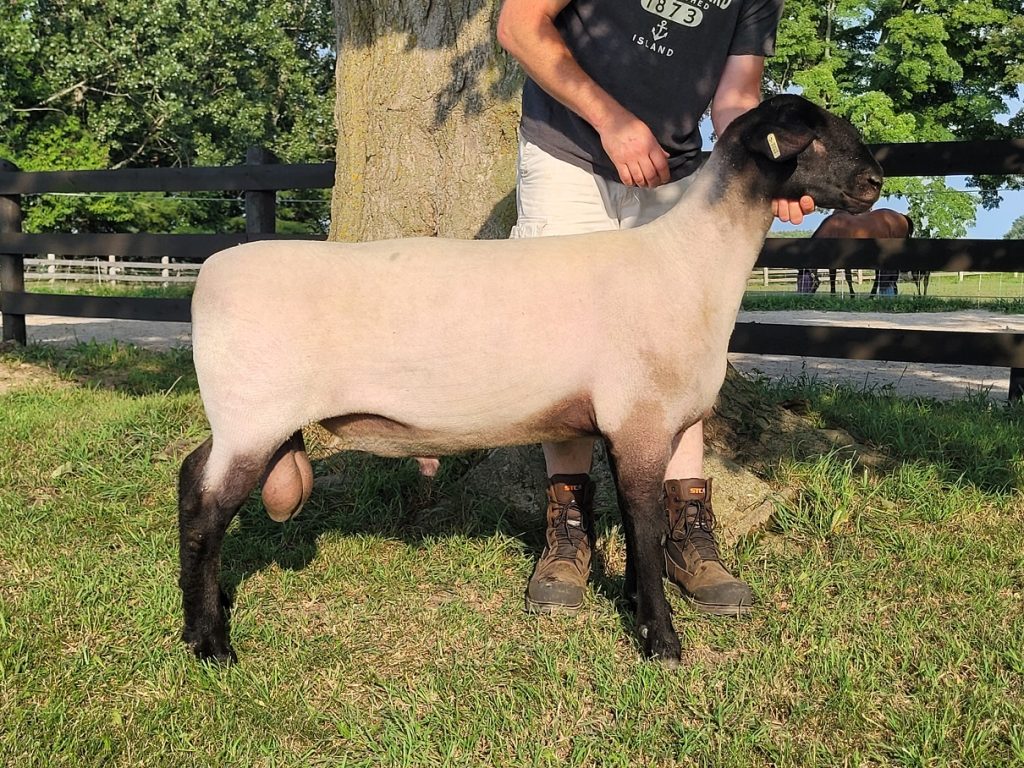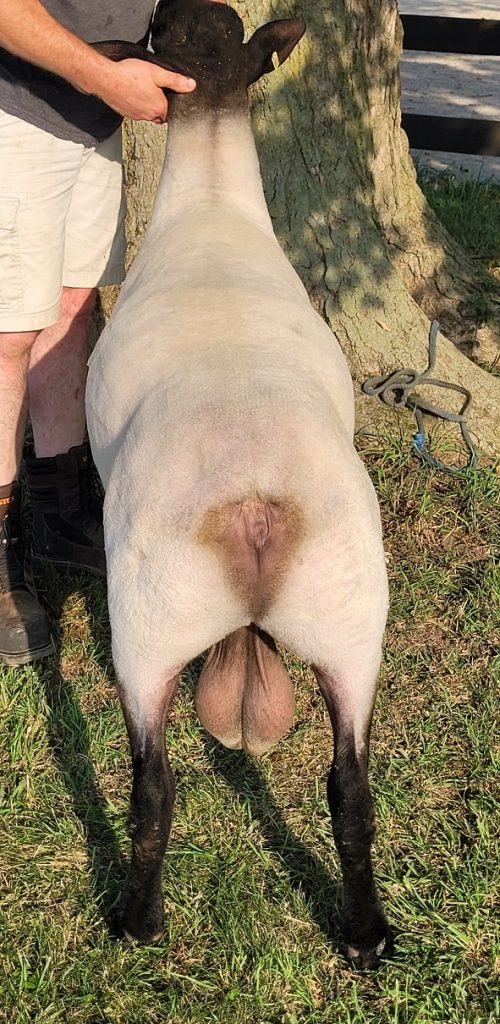 Maple Star LEGEND 910J RR
On our way back from delivering rams through Quebec and the East Coast in August we stopped in to tour a few farms.  We stopped and toured Maple Star Farm (David Mastine Family) and came across this january born lamb already breeding ewes.  After analyzing this young ram its hard to pick him apart,  solid and correct from the ground up, with more than enough leg muscle packed into a moderate frame.  His Genovis numbers make him even more reliable.  50day weight of 77lbs, 100day weight of 162lbs.  His GAIN epd's put him in the top 10 of the breed for unproven young rams.  LEGEND also scanned a tremendous loin of over 36mm depth at 90 days of age completing the narrative that he will live upto his name.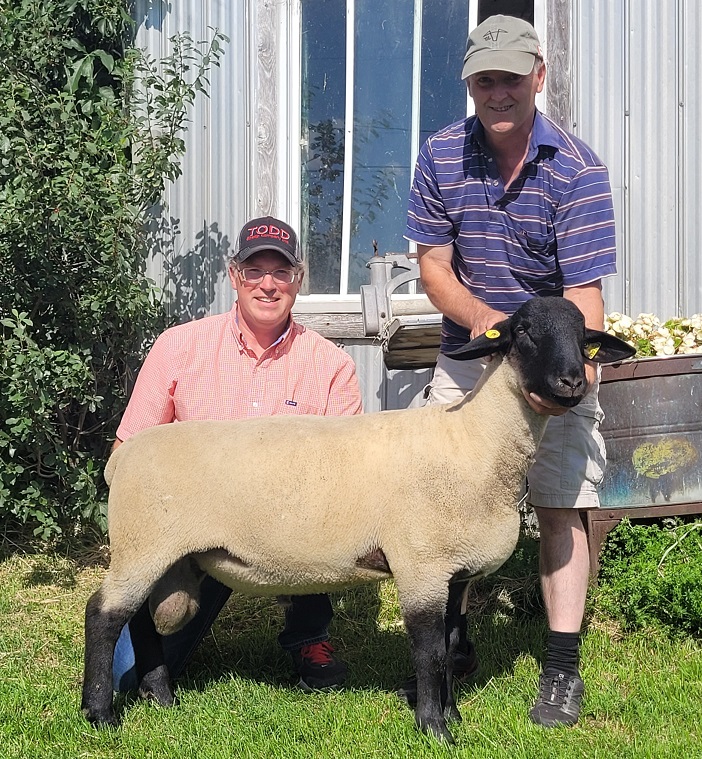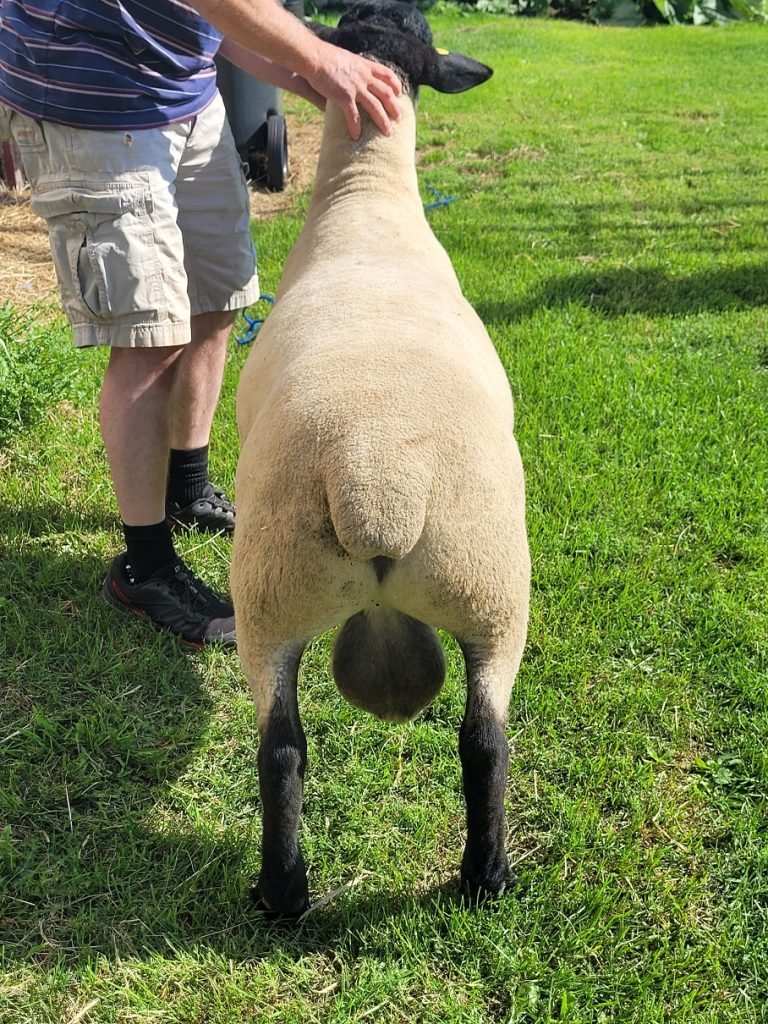 TODD OAKWOOD 45G "RR" Used for 2020-2022 lamb crops
IS A TRIPLET AI SON FROM OAKWOOD 13003 THAT IS RANK NOW 39TH ON THE TOP RAM LIST IN GENOVIS FOR GAIN INDEX.  WE REALLY LIKE THE CONSISTENCY AND PERFORMANCE OF HIS LAMBS WHEN USED LAST YEAR AS A LAMB AND HE WAS JOINED WITH APPROX. 30 EWES FOR 2021 LAMB CROP AND AND WE HAVE RETAINED QUITE A FEW DAUGHTERS
OAKWOOD 13003 AU "QR" Used for 2019 Lamb Crop
     
DECEMBER 2017 I TOURED AUSTRALIA IN SEARCH OF GENETICS TO MOVE OUR BREEDING PROGRAM FORWARD.  I FOUND THIS OLD RAM THAT IS VERY STRUCTURALLY CORRECT, IS HOLDING UP VERY WELL UNDER HARSH CONDITIONS AND HAS LOTS OF MUSCLING AND DEPTH OF BODY.  HE HAS VERY IMPRESSIVE DATA AS WELL, HE IS IN THE TOP 10% FOR LOIN EYE, FAT, WEANING WEIGHT & POST WEANING WEIGHT.  HIS CARCASS +183 PUTS HIM IN THE TOP GROUP FOR PROVEN SIRES IN AUSTRALIA.
TODD TK 3F "RR" Used for 2019-2021 lamb crops
HE IS SIRED BY MAPLE STAR RAM WE PURCHASED A FEW YEARS BACK AT THE CLASSIC AND A TODD EWE THAT HAD A BEATIFUL, SOFT MILKY UDDER
THIS RAM HAS CERTAINLY OUTPERFORMED HIM SELF.  A SMALLER STATURED RAM THAT SIRES LAMBS WITH A TREMENDOUS AMOUNT OF GROWTH POST WEANING, WITH OUT SACRIFICING ANY MUSCLE.
HE ALSO SIRED RESERVE CHAMPION MARKET LAMB @ 2019 ROYAL.
3F WAS RANKED #1 FOR GAIN INDEX ON GENOVIS IN 2020
ILE DE FRANCE
HITMAN TODD 76H
We are pretty excited about excited about the potential of this young stud.  Twin born in November 2020 he is sired by Georgella 35G which is out of new semen from France.  35G growth numbers aren't the greatest but has sired thickness and good loins.  We bred him to old TODD 59A, who in Feb 202 produced the #1 performance ram lamb in Genovis.  The pending cross gave us HITMAN!  He poses a very good GAIN index with great body capacity, length of loin and muscling into his lower leg.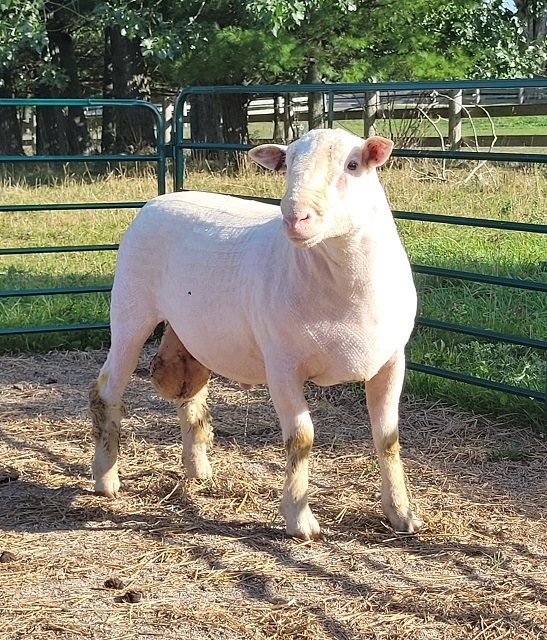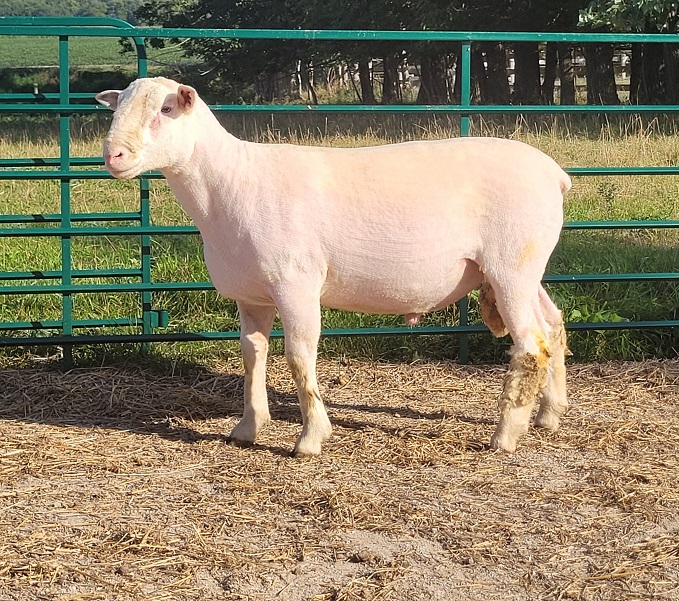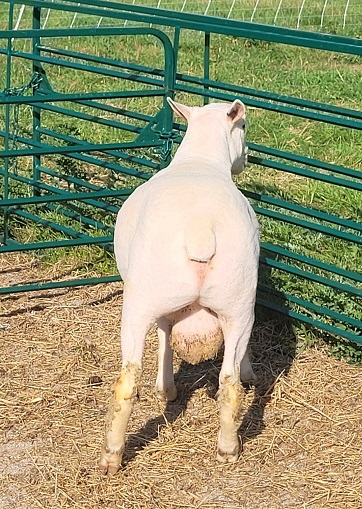 TRUE GRIT TODD 72H
This young stud born on Halloween of 2020 was Triplet born & raised.  Both his brothers have headed on to be studs as well, one in PEI and the other in Saskatchewan.  He is currently #2 on the unproven young rams list behind Hitman's maternal brother.  TRUE GRIT's maternal indexes are off the chart has he just recently won the award for highest maternal index for Ontario in the Any Other Purebred Category.  His structural correctness and sound feet & legs is what sets him apart!  We are super excited to see his lambs in the new year.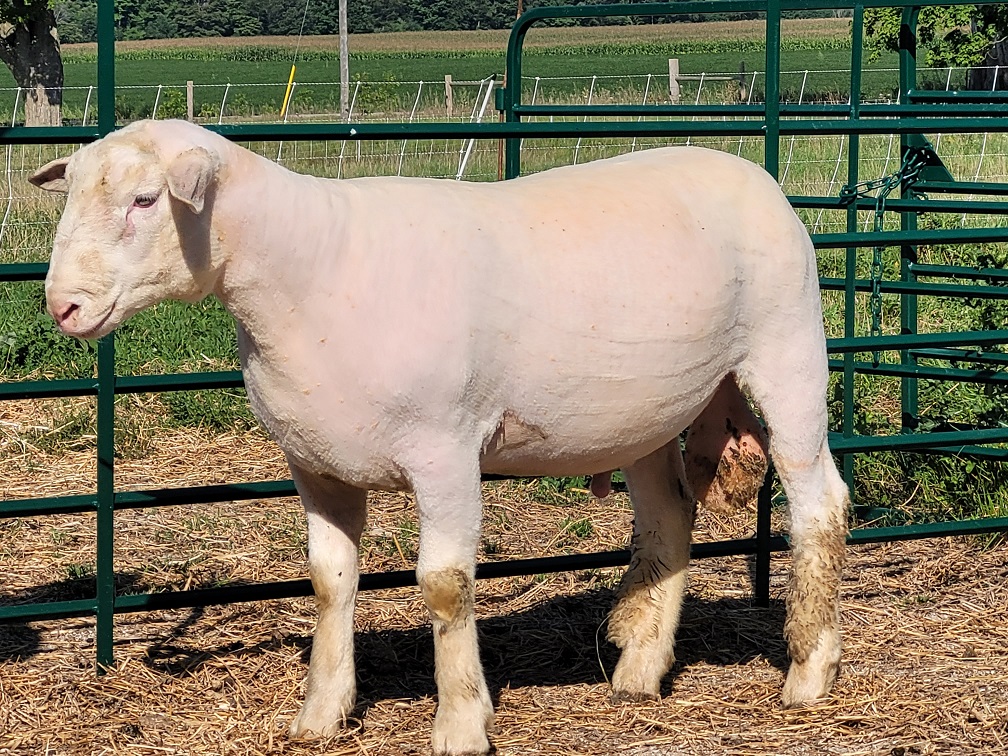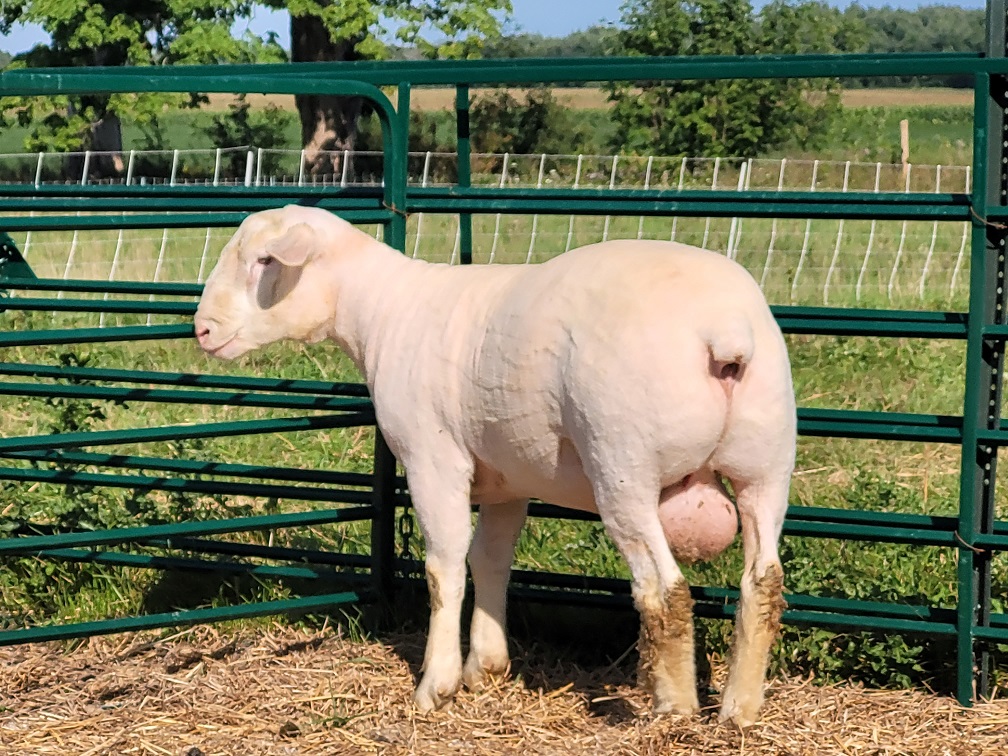 F LEGER 5269E Used for 2019 – 2022 lamb crops
SIRED HIGH SELLING EWE AT THE 2019 CLASSIC. GENOVIS DATA- GAIN 70%, CARCASS 58%, MATERNAL 83%
ACADIA 4877F Used for 2019 – 2022 lamb crops
SIRED HIGH SELLING RAM AT THE 2019 CLASSIC. GENOVIS DATA – GAIN 94% CARCASS 93%, MATERAL 96%
GEORGELLA 35G Used for 2020 -2022 lamb crops
THIS YOUNG RAM IS OUT OF NEW SEMEN FROM FRANCE AND HAS IMPRESSIVE STRUCTURE AND LOIN SCAN INFO. WE BRED HIM TO ACADIA & LEGER EWE LAMBS AS WELL A FEW OLDER EWES THAT LAMBED IN OCTOBER FOR EARLY SUMMER LAMBS